Apologies to Swedish readers that this post is in English for the benefit of all the lovely English friends we have spent the weekend with, but your English is superior to their Swedish.
In the year 793 the Norse Vikings raided the island of Lindisfarne off the Scottish Coast, which is known as the first documented raid by the Vikings. I wasn't in possession of that piece of un-interesting fact myself, hubby helped me with that.
Ever since relations between the Brits and the Norweigans has been a bit frosty. Picked up slightly during the 2nd world war when they bonded over the common enemy. But then Norway beat England in a world cup qualifier in 1981 and all the hard diplomatic work was undone again.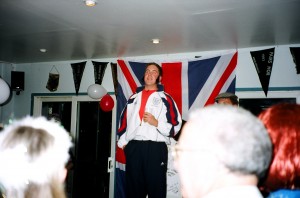 In an effort to help the Anglo-Norweigan relations Ben and Silje decided to get married. A bit like the royals making strategic matches in the olden days. It is also possible that Ben and Silje decided to get married for the modern reason being IN LOVE. But that is dull, so we will stick with the Viking angle for the purpose of this blog post.
The ceremony was held at the top of a Tromsö mountain. Tromsö University is a Centre for Peace studies, which ties in well with the Viking-peace-restoration angle.  The centre's main position is to "focus on non-violent forms of conflict resolution, emphasizing the task of building a positive, sustainable peace" (I googled that bit…). Which ties in well with the marriage angle a few years down the line.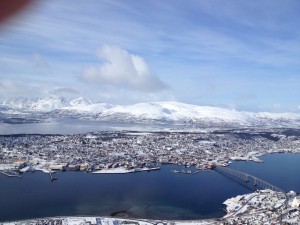 Also the Vikings weren't big on priests so as the first surprise of the day Ben & Silje had Ed, a surveyor from London, to officiate the ceremony instead of a priest as Thor wasn't available on the day.  That explained why Ed was hanging about at the front, he wasn't just rudely refusing to take his seat, he had a job to do. He did a splendid job of it as well, if the housing market in London collapses he could become a priest and marry people full time.
There was no Mendelsons or 'Here comes the bride' either, instead we all sang along to Aha's 'Take me on'. To distract you from the fact that I have no clue how to link that to the Viking theme I will post a video clip of it instead – watch it here!
The wedding ceremony was followed by a lovely dinner of seafood & lamb (lambs who had been happy before they died), a few sips of wine and dancing. All fairly normal wedding activities. Apart from the 'First Dance' which was replaced with a Viking inspired war dance.
A brilliant and fun wedding, and weekend in Norway, thank you Ben & Silje for inviting us all!