Anthony Cake is a freelance photographer from the UK. Read more about him in this earlier post or on his own website.
I'm going to start off by popping the megapixel bubble, you don't need the latest expensive camera with a 20mp sensor to take great photographs of your kids! Some of the best pictures I've captured of our twins have been taken using the camera on my mobile phone. What makes them so great and possibly better than a picture taken on my pro kit that was locked in the boot of the car? Because it was the only camera I had to hand and I was able to capture the moment. Yes a digital SLR camera will produce a much higher quality image but most photographs are only ever viewed on a computer screen or printed no bigger than a 6"x4" print. A camera with a 10mp sensor will be more than enough to "capture the moment".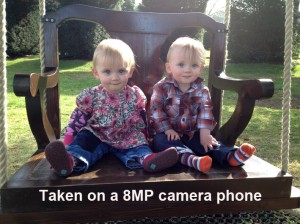 The first and most important rule when photographing children is get down on their level and I don't mean intellectually! Get down on their eye level, this will mean crawling round on your hands and knees and getting some serious grass stains or carpet burns. The average toddler is 60cm tall, the average adult is 180cm tall, if you don't get down then all you will be photographing is the tops of heads and tips of noses. It's about interacting with your subject; your child loves to interact with your face not your feet.
This weeks photo competition theme is 'Capture the moment', read more about the competition here.