Chris Savage is a Graphic Designer from northern UK, based in London for 14 years and an enthusiast in all things London 2012. This is his story about what it was like to take part in the Olympic Opening cermony as one of the actors.
3 months, 24 rehearsals and 1 BIG show.  It's hard to cast my mind back to early May and the first rehearsal back in Londons old Three Mills Studios, it started off with a look at a giant model of the stadium, decking in farms, fields, animals and clouds, then a small pre visualisation of what our group would be doing – We were now known as Working Men and Women (WMW for short).
While the first 2 rehearsals at Three Mills didn't really give much away it was the first taste of the choreography, that seemed almost impossible to pick up "shut the boot", "shovel pickaxe" and "chisel hammer" where the names of the moves and as you can guess was all laboured and physical actions meant to portray the actions of builders and machinery workers.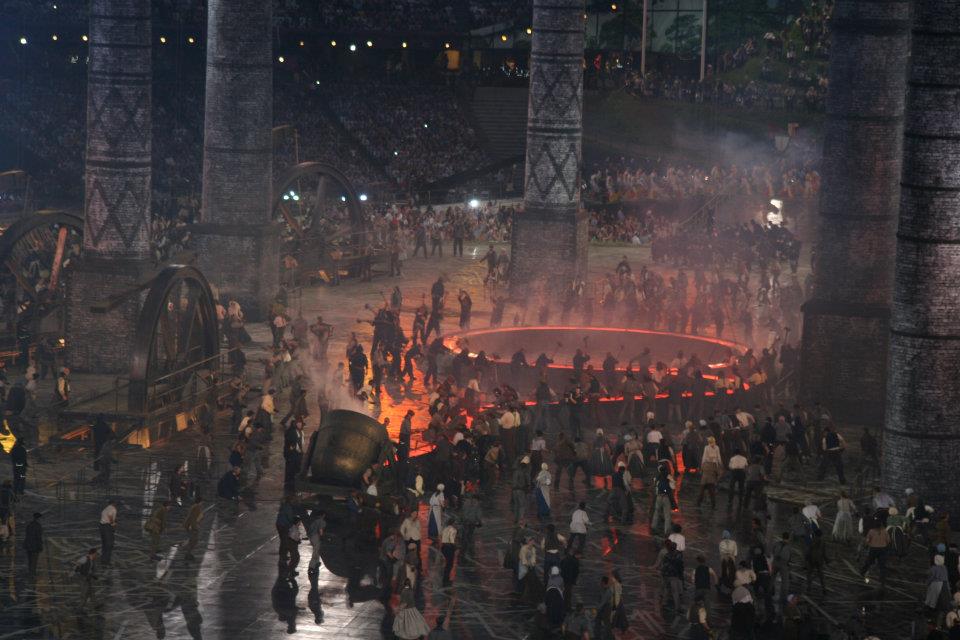 From here we moved on to a larger scale venue where we were told it was rehearsing for scaling and positioning not so much for choreography.  This venue was in East London at an old disused Ford manufacturing plant in Dagenham.  Although vast in scale (having 2 areas mapped out that replicated the Olympic Stadium floor plan).
Thankfully between the 2 areas they had erected a giant circustype tent, as on cue the British weather took a turn for the absolute worse and gave us weeks of gale force winds and torrential rain. During the month in Dagenham we learnt about the group (County) we now belonged to, our group leader and dance captain who was in charge of us and also the the props we would be using.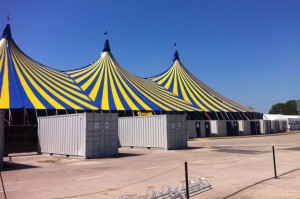 Some weeks we would feel great that we was getting the job done and improving, some weeks we felt like we were totally wasting our time as things changed at every start. The county I belonged to (Fife) had a mix of astroturf, fencing, flowers and rails to co ordinate along with sorting out a priority area that needed to be cleared to make room for items that were set to grow from beneath the stadium.
We left Dagenham at the end of month 2 and not at all confident that we had everything in place to get the job done come July 27th, but it was time to move on to Stratford, away from the long commute to Essex, away from the giant car parks and hopefully away from the soggy weather that has held most of the preparations back.
At the first rehearsal in Stratford everyone was buzzing, be it the realisation how close everything is getting, seeing the stadium in all its unfinished glory or the nice free food given to us now we are in a controlled area.  At this point real friendships had grown, groups formed and were laughing and joking on breaks and arranging social outings, groups on facebook etc. This was the point that I noticed that I was part of a life changing event, mainly due to the awesome people I was working with.
This was the last month before the big day so everything would need to be sorted and working without problems, as Seb Coe has said often – The date is set, there is no way that we can delay the start so we had to all be ready.  Even 10 days before the opening ceremony I had my worries, we all had our jobs assigned, knew our routines, but things had been changed so much, our time on stage was cut from 17 to 15 minutes and we hadn't yet got it all done on time.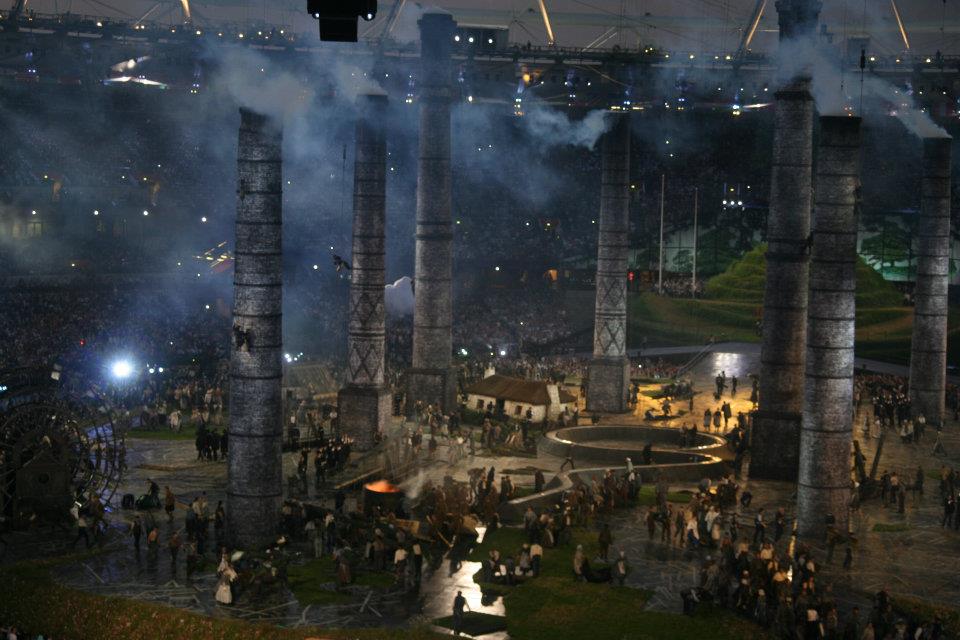 On the last week before the show we had scheduled in 2 dress rehearsals in front of friends and family and then the final show on the 27th.  Amazingly it all fit into place during the dress rehearsals and the cheer we got from the crowd was mind blowing, a feeling I have never had before, making everyone much more confident for when the TVs are following us.  These rehearsals gave us a good taste of the show as we had drummers giving us our beat, our costumes on to help us get into character and some of the fireworks to give us the wow factor.
Friday came and I started the day at the gym, no butterflies and a few messages from friends and family wishing me well.  After getting to the Olympic Park to change and meet up with people and socialise together before we change and walk down and wait in the belly of the stadium.  The show was a resounding success, the atmosphere was electric and I had a small tear in my eye as  I walked past the atheletes, who patiently waited for their moment to celebrate the start of the XXX games.  On my 3 months journey I have met some awesome people, made some great new friends and learnt some new life skills.  I can say with pure confidence that I will never forget my London 2012 Olympics.
Adds to my pleasure that the ceremony has gone down well at home and abroad and even the in jokes didn't get too lost on our international friends.