Man ska vara pigg och alert när man ritar med 100 tuschpennor. Det krävs mycket ork för att försöka förhindra att det hamnar tusch på väggar och möbler och säga "Är du klar med den pennan? Sätt på korken då" hundra gånger. Det är ingen aktivitet för klockan sju på lördag morgon. Titta på barnprogram är en mycket bättre aktivitet på lördag morgon. Därför bor tuschpennorna i skattkammaren. Out of sight, out of mind liksom.
Man blir då mycket irriterad när maken lämnat tuschpennorna fullt synliga i bokhyllan dagen innan lördag morgon kl sju.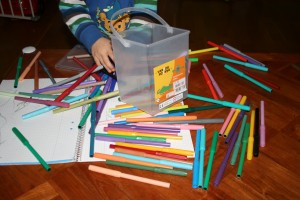 Jag vill inte framstå som hämndlysten eller så. Men imorgon är det min tur att ha sovmorgon. Då kan det hända att det står fyra burkar modellera på full display i bokhyllan klockan sju på morgonen.